The 2016 Sahmain Awards
2016-10-25 18:10:00.903090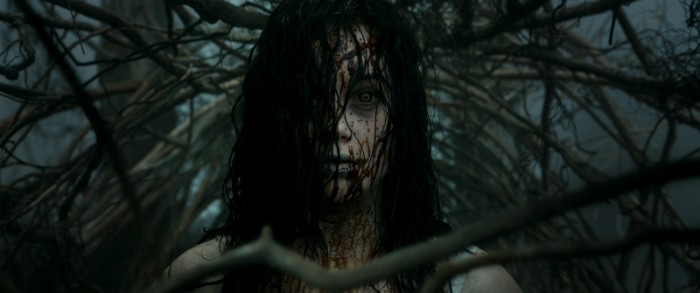 This list represents an unhealthy level of engagement with horror cinema. As ever, most of that shit was garbagewater. As ever, it was worth it.
Indie auteur weirdos stay killing it, and thank Baal for that. This year's notables were the gorgeous claustrophobia of The Survivalist, the wild & brutal psychedelic spectacle of Antibirth and The Alchemist Cookbook, which is inexplicable but captivating. All of them are actor-driven and worth your time. There were also gems on the big money end of the spectrum, like the highly worthy zombie action ride Train to Busan or Guillermo del Toro's beautiful Crimson Peak, a masterpiece of design.
We've been blessed with a lot of smart, strange new films. But of course, as ever, only the following picks are correct. Enjoy.
Baskin. The most foreign foreign horror film I've seen in years. The levels of violence and nightmare depravity on tap here will test your tolerance, so this is not for most viewers. Baskin is about Actual Hell, and might be the best attempt since Event Horizon. It's a distinctly Turkish affair, unfolding slowly, and earnestly moralistic in a way that doesn't exist in the Western World. Bosch-style visions of suffering aside, there are many gorgeous visual motifs that elevate the film even further from "extreme" endurance contest to actual cinema. It has the virtue of ending perfectly.
Black Mountain Side. Not the best this year, perhaps, but my favorite. This is a low-budget, high-concept, slow burn that nails a tone and never deviates. I wasn't sold by the first ten minutes, but I've probably put it on ten times since then. I've seen a lot of reviews that compare it to Lovecraft or Carpenter's iteration of The Thing -- Black Mountain Side is a whole different animal. The stumbling descent of the middle act is the best part, but any shortcomings get redeemed by that ending. I want to see more from this team.
The Witch. This, however? This was The Best Horror Film. Pure cinema -- an original, haunting piece of work. The production is beyond belief; stark, uncompromising, and truly occult. Director Robert Eggers is making his debut, too. Pagan majesty from start to finish.
The Neon Demon. I'm an unabashed fan of Nicolas Winding Refn and this here ice diamond didn't change my mind. Obviously, if you've been turned off by the excesses, artistic and barbaric, of his previous films, well...this won't change your mind, either. Much like Only God Forgives, this is heavy on dream logic and meticulous, staged art pieces, with many nods to Jodorowsky's iconography. It's trashy, ambitious, and demands interpretation. None of this is bad.
Don't Breathe. Exactly like the last flick from Fede Alvarez, this is way too damn good. It's an escalating nightmare driven by the demonic intensity of Stephen Lang; the movie has a very human monster. It also marks the second Alvarez collaboration with the incomparable Jane Levy, surely destined for greater things. In terms of straightforward horror, nobody did it better this year. This is the kind of movie where I could describe the entire plot before you walked in and you'd still be catching your breath and swearing the whole time. Turn the lights off.
I Am Not A Serial Killer. Really weird but charming as hell. I've seen it a few times now because I had to be sure it was worth recommending, and it sold me on about a hundred small details. The acting, the pacing, the shots, everything works here. Young Max Records is a real talent and his work with Christopher Lloyd is the heart of the movie. Similar in tone to Late Phases or the original Let The Right One In, it feels like horror from an alternate universe where Halloween and The Exorcist never happened. There's an innocence to this that's too rare.
The Hallow. I'm a sucker for both Ireland and awesome practical creature design; this happened to have a lot of both. Featuring several classic set piece scenes, this film is a clinic in making a low budget look like many, many millions of dollars (just like 2014 gem You're Next). While "creatures in the woods" is nothing new, this is a carefully imaginative take with atmosphere and style to spare. A toast to Corin Hardy.
In closing, a few more. Green Room and The Invitation were both on the outer fringes of the genre, but outstanding. Green Room is courtesy of Jeremy Saulnier, who wrote & directed the flawless victory Blue Ruin as well as Murder Party, a darkly funny indie horror slapstick. Green Room is bloody and brilliant and impossible to forget. The Invitation is a tightly wound showcase for some great writing and acting. Even giving away the setup would be too much -- go see it.
Having caught up on the American, Asian and European waves of "Extreme Horror," there was some real gold in yon gutter. American Mary, a body modification fantasia by the Soska Sisters, keeps the feel somewhere between Lynch and Cronenberg while doing their best writing to date. Katharine Isabelle as the lead is something heavy, though: her performance is what makes the film transcend its own transgressions. Another standout was the Korean torturefest I Saw The Devil. Smart writing, uncomfortably intense performances, and a final act that will stick with you for months. While Audition and Imprint are justifiably infamous, they don't come anywhere close to the same vision or emotional impact.
Pascal Laugier's Martyrs was the very best of the batch. Which is unfortunate, because that shit is traumatizing. Still, what haunts you long after the violence is the questions it raises. One of the only brutalist horror films with something to actually offer the brave soul who sit through it, it also boasts one of the most unforgettable opening sequences in horror history.
In closing, go buy a copy of Mark Z. Danielewski's House of Leaves. Go ahead and fuck your life right up. I dare you.
Read another?