"Changing Images of Man" in PDF Format
2009-04-28 13:53:00
UPDATE 11/11/08: Apologies to those readers who've been trying to get ahold of this fascinating document. We switched servers recently and neglected to transfer a lot of PDF files -- entirely my mistake. This is the single most-requested item in the Library, so here's an OCR scan of the 1974 forgotten classic:

DOWNLOAD PDF NOW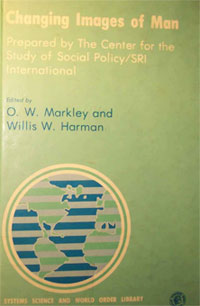 Changing Images of Man is the stuff of legend -- but the actual document is way more interesting than the conspiracy theory that surrounds it. It's an undeniably weird document, though, and even the most airbrushed versions of it's origin and history make for mind-expanding reading.
Changing Images is especially interesting today because the "future crisis" it was written to avert is now coming to pass. The Stanford Research Institute gathered a diverse group of brilliant thinkers and asked them to imagine how to change the entire world. Today it makes for occasionally challenging but rewarding brainfood.
When I first got ahold of this document, I thought it was the blueprint for world government and Willis Harman's beloved "Global Mind Change." There's no secret formulas here, and no admissions from the secret society. There is a robust and still-valuable body of work about how to change human culture for the better -- I'd like to think that's more useful. Let me know if you agree.
Read another?