"What has been done is the greatest achievement of organized science in history."
--Harry S. Truman, 1945 statement on the bombing of Hiroshima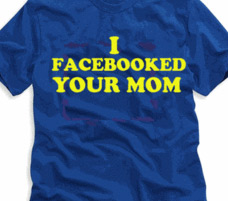 After over a decade of being immersed in the conspiracy theory culture—and I'm still there wether I like it or not—my core beef remains the same. It's not something unique to conspiracy research. It's a universal problem with all true believers: exaggeration for dramatic effect. Subtlety is interesting. Details are brainfood. Overstatements are good for getting people alarmed and worked up, but what happens when people start realizing they were decieved?
Is Facebook a CIA front, devoted to identifying, tracking and crushing dissent in the college generation? Actually, no. Facebook is a website, devoted to "social networking." However, there's also a lot more going on behind the curtain. As always, it's the grey areas that interest me the most. So with this article, I want to ask refined and specific questions to get accurate and detailed answers. Because it's not an exaggeration to say that there are very real ties between Facebook and CIA—and there's a whole covert landscape of semi-legal databases, companies selling private information, and the new horizon of computer-driven "Data Mining".
In short, this is a great angle to sneak a peek one of the most hidden, and profitable, sectors of the US economy. What we'll see is a lot less simple than a good conspiracy theory, but I also think it's a hell of a lot more interesting than the "Facebook = CIA" mantra that passes for "investigation" on the internets.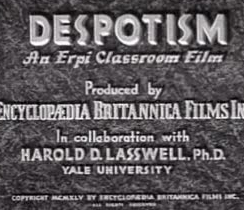 I'd like to start by thanking Jeff Wells of Rigorous Intuition for first letting me know about this movie. I downloaded it at least a few months ago and it sat on my desktop unwatched until last night, when I was clearing space and deleting old files. I figured I should at least watch it before I removed it, and boy howdy am I ever glad I did. This humble little educational film peeled my eyelids back in a big way. Today it would be considered subversive entertainment, and yet it was being shown in classrooms around the country back in 1946. It is a truly remarkable little movie, clocking in at just under 10 minutes and packing as much whallop as any of the "radical" documentaries making the rounds online these days.
It is an artifact from an America long since gone, a nation of informed democracy, economic security, educated voters—and most of all, a nation of meaningful patriotism. By that I mean the polar opposite of what we hear today—"my country, right or wrong"—this was 1946, where people were proud to be Americans and loved their country because it was right.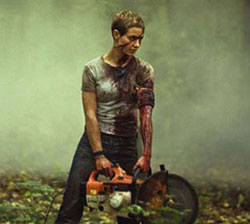 Aside from getting into all the hottest clubs for free, the best part about running Brainsturbator is the readers. They keep me in line and they ask me good questions. After the Colonia Dignidad article, I got a whopper: "Does there come a point where these investigations of yours become self abuse, what with these things you're finding? Is it dangerous to pummel the mind with these facts for extended periods of time?"
Quick answer: hell yeah, it's self abuse. I lose sleep, weight and hope for the future when I stare the abyss in the face like this. I can't say my nightmares have gotten any worse, because they've been making me question my sanity since I was a kid, but the everyday world is a very different place.
But you know what? The everyday world always was a different place. Whether we subject ourselves to this horror or not, it's still out there and it's still real. And of course, the quick answer is superficial and misses the real meat—this is an important question to look at in some detail, so before I keep subjecting Brainsturbator readers to these nightmares, let's examine why it is nescessary, important, and ultimately—empowering.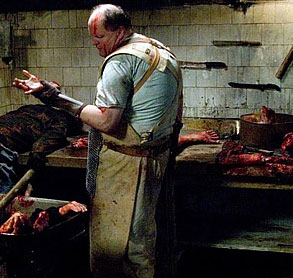 As we've noted several times, American horror films are taking a disturbing nose dive towards snuff flicks. The past five years have seen a rapid escalation of the sadism and torture quotient, notably movies like Hostel and the Saw series. Although I should probably just chalk it up to the Kali Yuga, it bothers me a lot because frankly, there's very little fiction in these movies. (It also bothers me because these films are all pretty weak: after Passolini's film Salo, there is absolutely nothing more that can be done with onscreen brutality. Don't believe me? Watch it.)
Today we're going to look at a little-known spot in Chile. Villa Baveria is the more recent moniker—but we'll refer to by the name it used to be known as, which is Colonia Dignidad. I've had a number of readers express disgust and shock about our previous article on "The Finders," and I would urge them not to read this at all. Colonia Dignidad was essentially a non-stop, decades-long version of the most brutal horror film ever made—and that's probably an understatement.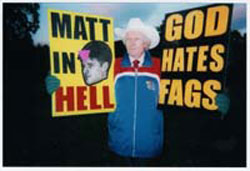 My sense of humor is neither unique nor obscure. Just the same, it tends to sail over a great many foreheads, so let me be perfectly clear on this one from the outset. One of the major regrets in my life—aside from all the monstrous things I've actually done—was missing the chance to break Fred Phelp's nose when he came to Vermont. This was during the controversy over "civil unions", a landmark event which is hard to be proud of, since it's ultimately a comprimise with ignorant bigots. See, rather than do the right thing and just pass a law allowing gay marriage, Vermont did some half-stepping, and now we have "civil unions".
Anyways, Fred Phelps showed up with his entourage and their "GOD HATES FAGS" signs, and I totally missed the boat. Bear that in mind when I crack tasteless jokes for the rest of this article. For any readers curious about whether or not there's a "hidden homosexual agenda" behind this article, check out our series on "curing" homosexuality (Part One, Two, Three)

I can understand why people like John Ashcroft, George Bush Sr and John McCain are concerned about the internet: it's impossible to believe a word that comes outta their mouth when you can look up the facts yourself. This is why children need to be taught early that computers are for video games, short videos of people getting injured, and pornography. In researching the closing section of our last post on the media, I found so much deeply disturbing information that I realized I had another article on my hands.
Here it is.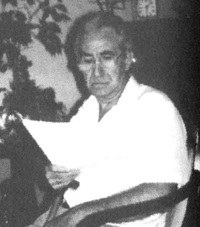 Paranoia...it means expanded awareness, when you break it down. (para—"beside, beyond" + noos—"mind") There is nothing wrong with paranoia as long as it's pursued with vigor and a sense of humor. The problem with most people is that they are not paranoid enough: they are naive enough to believe they are on their own side. Be paranoid about your paranoia, after all, most of your body weight is independent micro-organisms who would sooner eat you than put up with your continued existence.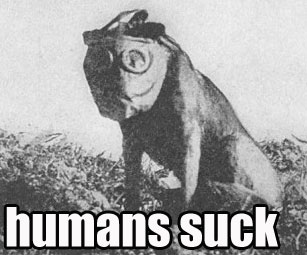 Look, what follows is not for everybody. I, too, am disgusted and shocked by the use of animals in labs, I don't like seeing animals tortured and killed. Just the same, when you gaze into the abyss, something things get so profoundly absurd and cosmically sick that, yeah....you start laughing.
This article is a short examination of a phenomenon which is greatly overlooked: the human use of animals as weapons during wartime. So you can already tell, you're in for some hilarious family fun. That's the intro, and that's the warning. After this point, any indignant emails will do nothing but give us something to giggle about at our next meeting.
To an extraterrestrial observer, it might appear that humanity has been laboring for centuries to make a clear case that we don't deserve to be here. Consider this Exhibit #22,128,544 in a series.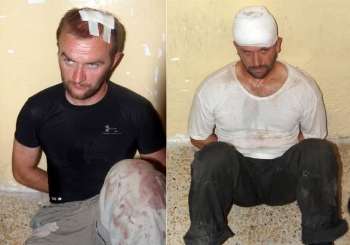 Here's a classic little story that just never gets old:
"Two persons wearing Arab uniforms opened fire at a police station in Basra. A police patrol followed the attackers and captured them to discover they were two British soldiers. Their car was full of explosives and they were taken into custody."
Curious stuff, eh?
Let's state right at the beginning that we're not—as in, we are not—making the claim that all the carbombs in Baghdad are coming from white guys in turbans. That's idiotic. It also misses the entire point of having special forces in the first place, but that's beyond the scope of this article. What matters is that this happened.
This is an important story that nobody should forget --- you know why? Because even though Americans have forgotten all about this, nobody in Iraq has forgotten for a f***ing second.

Brainsturbator Favorites
Meta

The Abyss

Aikido Activist Anarchy

Weird Science

We Salute You